---

A rustic resort on Hat Creek. It is in full forest next to the creek. This is lower elevation and is warm in summer.

There is camping, trailer hookups, cabins, a store, and a motel.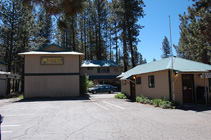 Hat Cr Resort Motel
If you like roughing it with full amenities, Hat Creek Resort is a good choice.
It can be a bit crowded at high season and it is adjacent to Highway 44, so quiet peacefulness may be best found elsewhere.
field checked June 2012